Safe Deposit Boxes: The Definitive Guide
A safe deposit box is one of the most trusted and secured places to store your valued assets, such as property, important documents and jewelry. These boxes are usually located and protected behind a thick bank vault. The renter and the bank staff are required at the same time to open the box, which makes safe deposit boxes a lot more secure than regular safe storage products like home safes or security cabinets.
This guide includes all aspects and common questions related to safe deposit boxes to help readers make the best decision when they want to rent a box. We will also cover a lot about private safe deposit boxes if you are interested in storing your items in non-bank facilities.
In this article, you will learn:
What Is a Safe Deposit Box
A safe deposit box, also known as a safety deposit box, is a secured metal container that usually stays in a large safe or bank vault, for storing and safekeeping valuables and important documents. These boxes can be rented from banks, credit unions, post offices or other institutions that offer private safe deposit box business.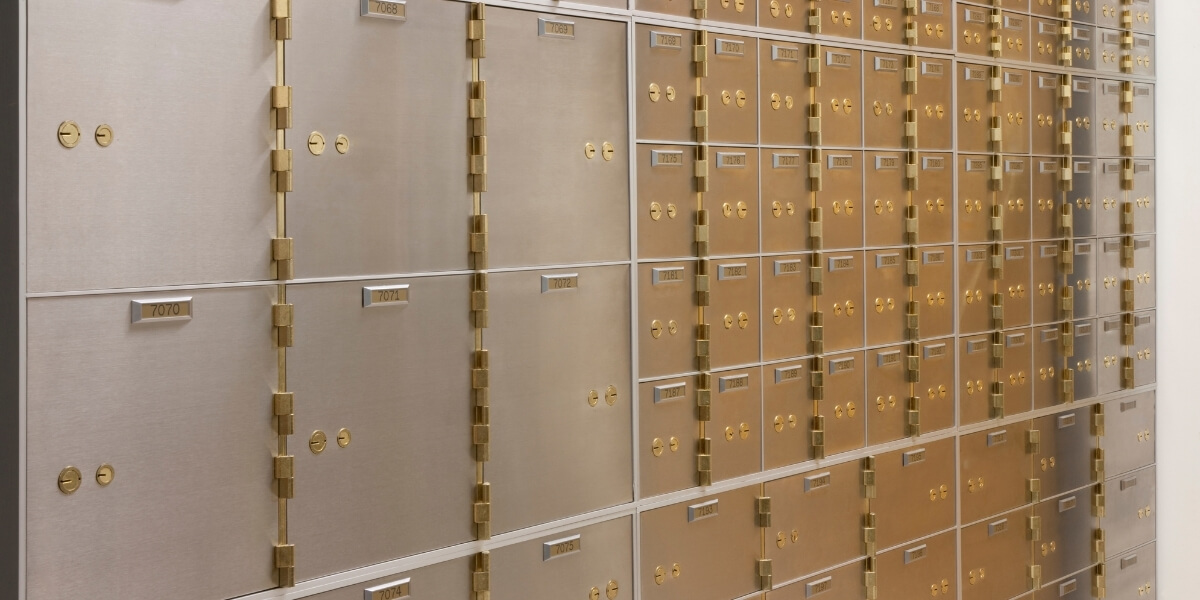 What makes a safe deposit box unique is that it often requires two people to get it open simultaneously, the renter and a bank attendant. Usually the renter holds his key called the renter key and the bank attendant holds a key called the guard key. To open the box, use the guard key to open the lock first and then the renter key can open the entire lock. Whether you have a password, card key or a traditional mechanical key as your access method it does not matter, as technology develops and there are digital safe deposit box system now, the only thing is matter is that safe deposit box requires dual control for access.
Why Use a Safe Deposit Box
It's off-site safe storage.
The most important factor/reason to use a safe deposit box is that all your documents are stored and protected off-site. Even if a burglary happens at your place or home, when they find you own a safe, they may harm and force you to open your safe. But if all your valuables are stored off-site, not at your own place, they may find nothing and never know where you kept your valuables.
High security and privacy.
With all your valuables stored behind huge, fire-proof vault doors, how much of a home safe can provide that level of security compared to a vault door? And each time you visit your box, you need to identify yourself with a bank attendant, dual control is always way safer.
Where Can I Get a Safe Deposit Box
You can find a safe deposit box at your local bank, credit union, post offices, or business that offer private safe deposit box services. You can choose to find a safe deposit box near you, or even store your valuables offshore at overseas banks.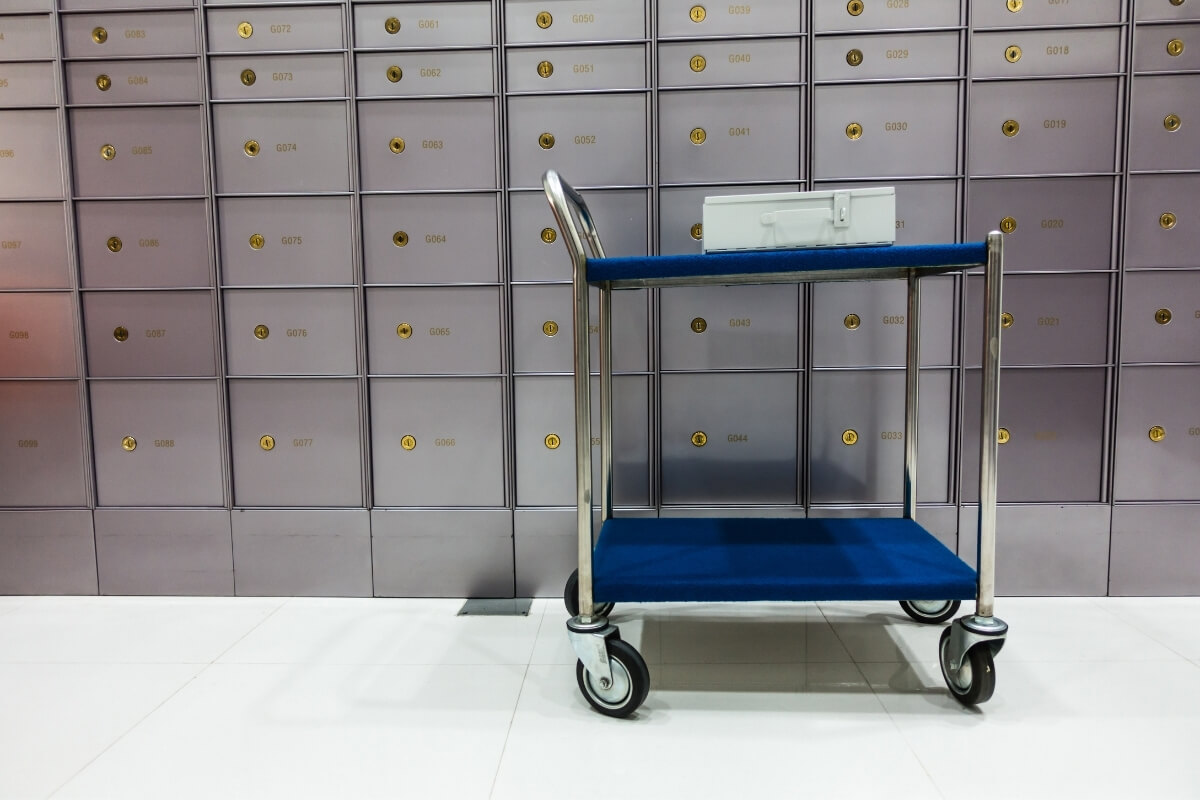 For most people, it's a good idea to choose a local bank near you. Just go visit your favorite bank's website and make some phone calls; they will guide you to the nearest branch that has this service.
How to Get a Safe Deposit Box
After you have chosen a bank or institution that offers safe deposit box services, it's better to make a call first to ask if there is any special request.
Generally, you bring the items you want to store with you to the bank, talk to the bank manager and check for box availability and prices. Then you can choose what box size to rent and sign a lease agreement. You may also identify someone else who can have access to your box in case you might be unavailable to open the box sometime. The person should be with you and sign some documents too.
After the paperwork is done, you will be given two keys if it's a traditional mechanical key safe deposit box, or a card, code, combination if they are electronic/digital safe deposit box or mechanical combination lock box. Then store your items with the help of a bank manager for the first time to get familiar with the procedure.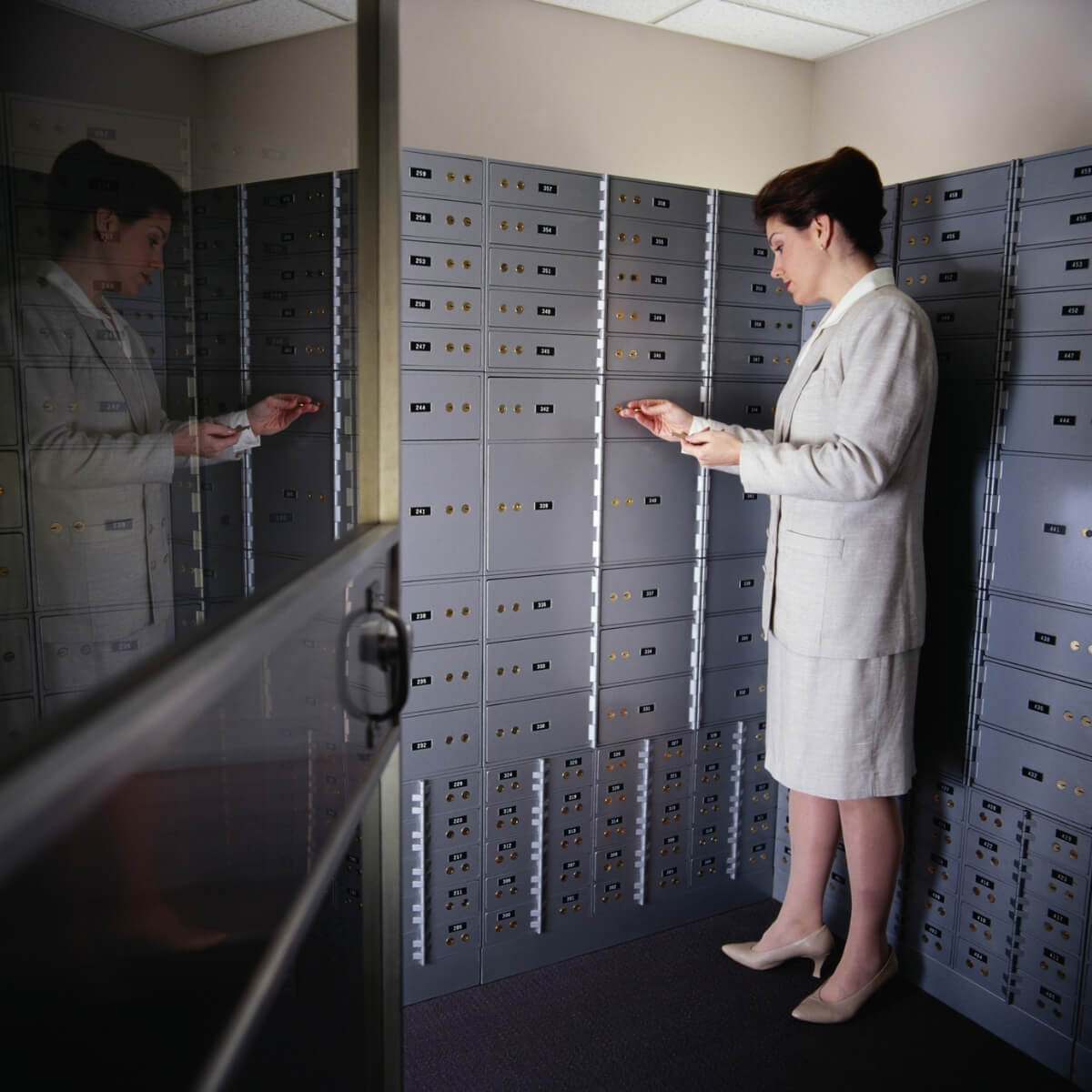 To get a safe deposit box at private non-bank companies would be pretty much similar, most companies handle these processes online, just visit their websites or make a quick call.
Always remember to keep your keys, cards or codes safe after you get back from the bank.
How to Open a Safe Deposit Box
Go to the bank with your safe deposit box keys, you might need to sign an admission slip or do some identification work first to gain access to the vault area.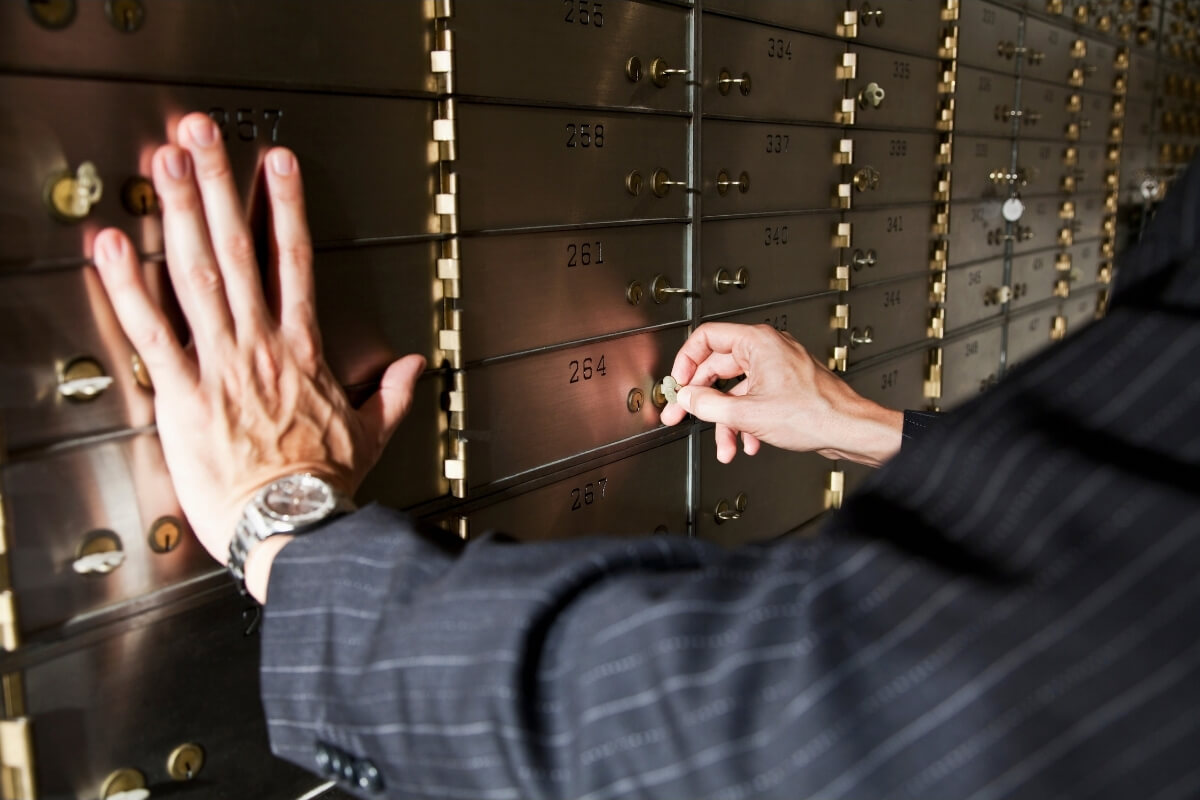 A bank safe deposit box attendant will take you to the vault and open the safe deposit lock with their guard key(held by banks) and your renter key(held by you). It doesn't matter if the safe deposit locking system is different, using fingerprints or codes, bank attendants unlock their part of the lock and you unlock your part of the lock.
After the box is open, you could go to a viewing area where you can deal with your items without being disturbed.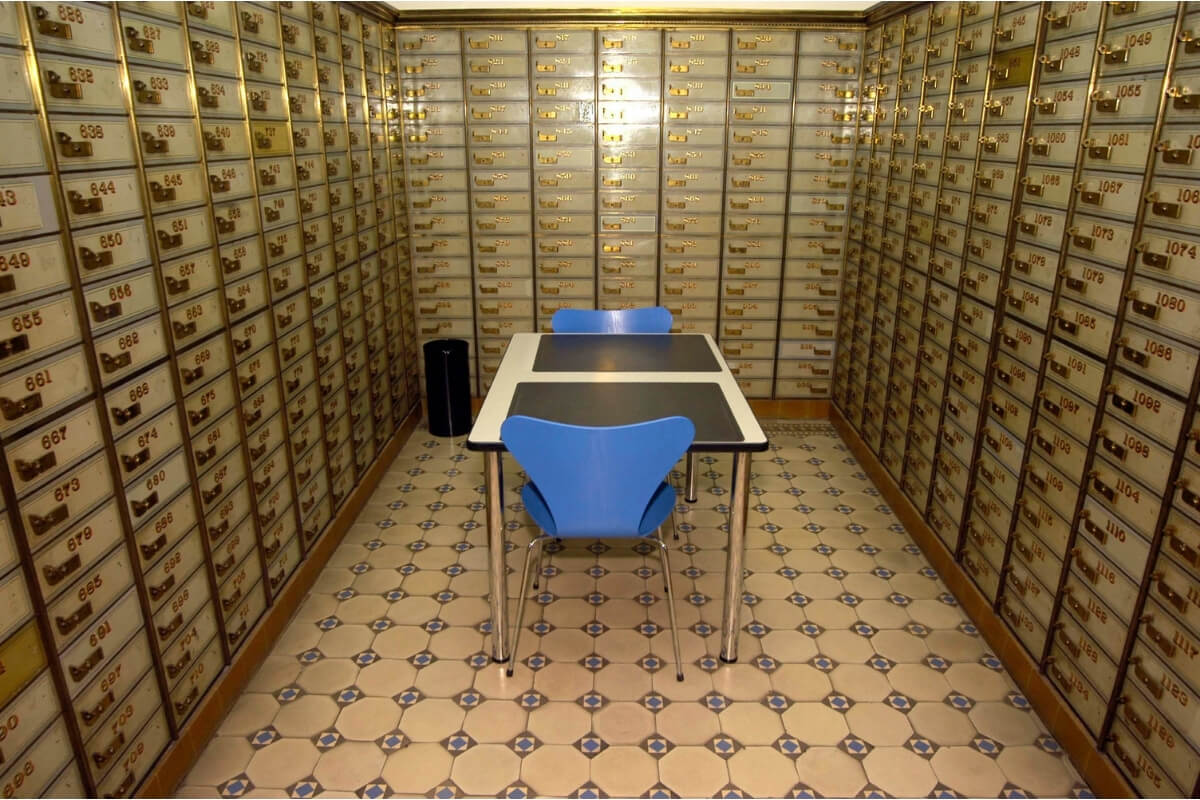 When you're done, return and securely close your box.
Safe Deposit Box Sizes
The size of a safe deposit box is measured as Height x Width x Depth or H x W x D. Numbers are usually measured in inches or millimeters.
Standard dimensions:
Height: 2″, 3″, 5″, 7″, 10″, 15″, 20″, 30″
Width: 5″, 10″, 15″, 20″, 30″
Depth: 18″, 20″, 22″, 24″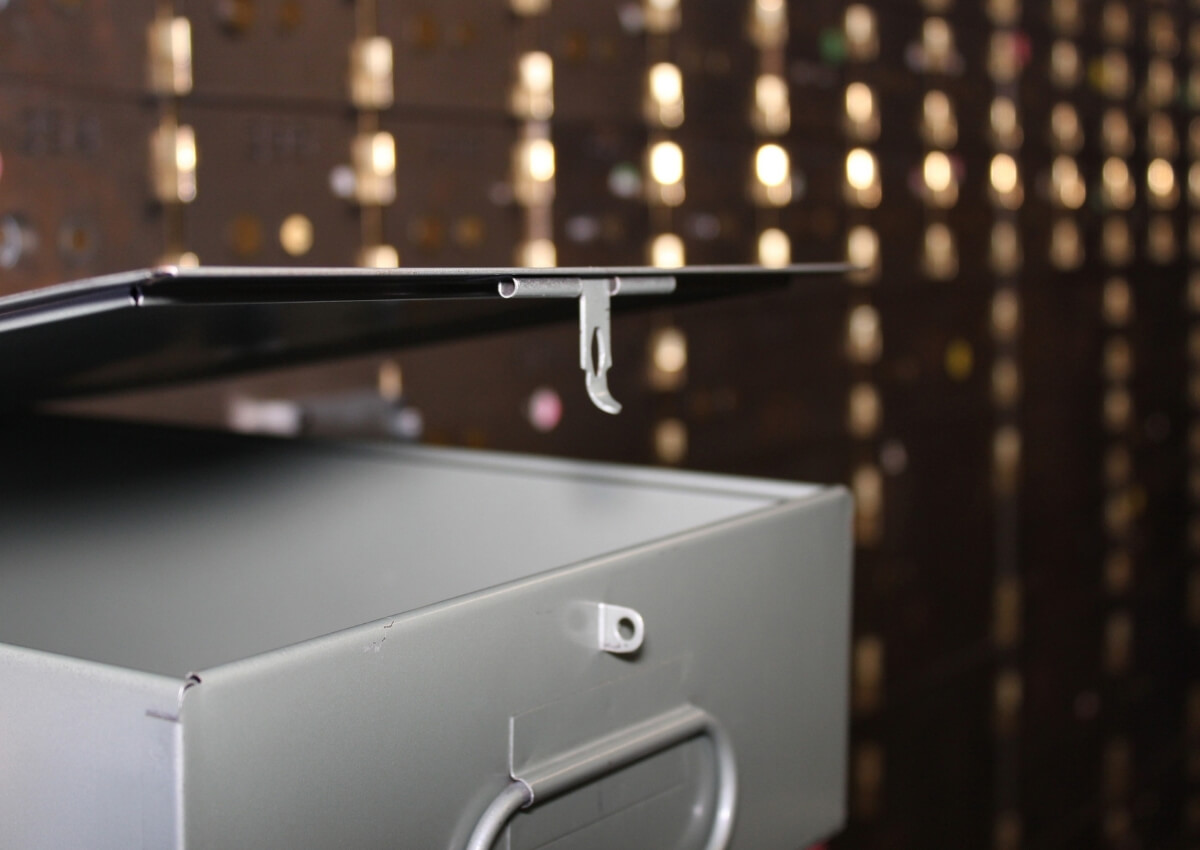 Normally all boxes in a bank vault have the same depth, so the depth is often omitted.
A 5 inches high, 10 inches wide and 24 inches long box is written as 5″ x 10″ x 24″ or 5″ x 10″.
Safe Deposit Box Costs
On average, for the most rented 3″ x 5″ x 24″ standard small boxes, the annual rental fee is around $60 in most banks.
Very few banks keep the rental price all the same at all branches. For most banks, customers are advised to call each individual branch for the actual local price. And not every bank branch provides all sizes listed above or has such boxes available for rent.
Common average prices for your reference:
For extra small 2″ x5″ boxes, the annual cost is around $20.
For standard 3″ x 5″ boxes, the annual cost is around $60.For standard 10″ x 10″ boxes, the annual cost is around $180.
Safe Deposit Box Laws
There are no federal laws concerning safe deposit boxes. But there are state laws regarding the boxes, such as in California, there's a law requiring who can access the safe deposit box after the renter's death. Mostly all restrictions are directly from banks, written in the lease contract, such as what can or cannot be stored.
As there are no or few laws protecting your content, we'd recommend customers to secure your items via insurance companies and keep a complete list and description of all property stored in your safe deposit box, and any available proof of ownership.
Safe Deposit Box Locks
Traditionally, safe deposit boxes are equipped with mechanical safe deposit locks that have two key locks inside one lock case. The bank holds the guard key and the renter holds the renter key. This type of safe deposit lock is still very popular and widely installed today.
Nowadays, mechanical combination locks and electronic safe deposit locks are also used on the boxes to offer customers a more flexible and keyless access option.
Safe Deposit Box Keys
Safe deposit lock keys are usually lever lock keys with small key bows. Sometimes when people happen to find a key hidden in their house, they want to identify if it is a safe deposit box key.
If it's a safe deposit box key then it means one of your relatives may have a safe deposit box with estate in the bank that you might need to claim.
Here are some hints on safe deposit box key identification.
If you find a safe deposit key with an envelope that says "Keep one safe deposit box key in this envelope", then it is a safe deposit key.
Additionally, when you rent a safe deposit box at the bank, you are given two renter keys by the bank in case you lose one of them, so if you found two same keys, then they are probably keys for a safe deposit lock, which means you may have a rented safe deposit box somewhere.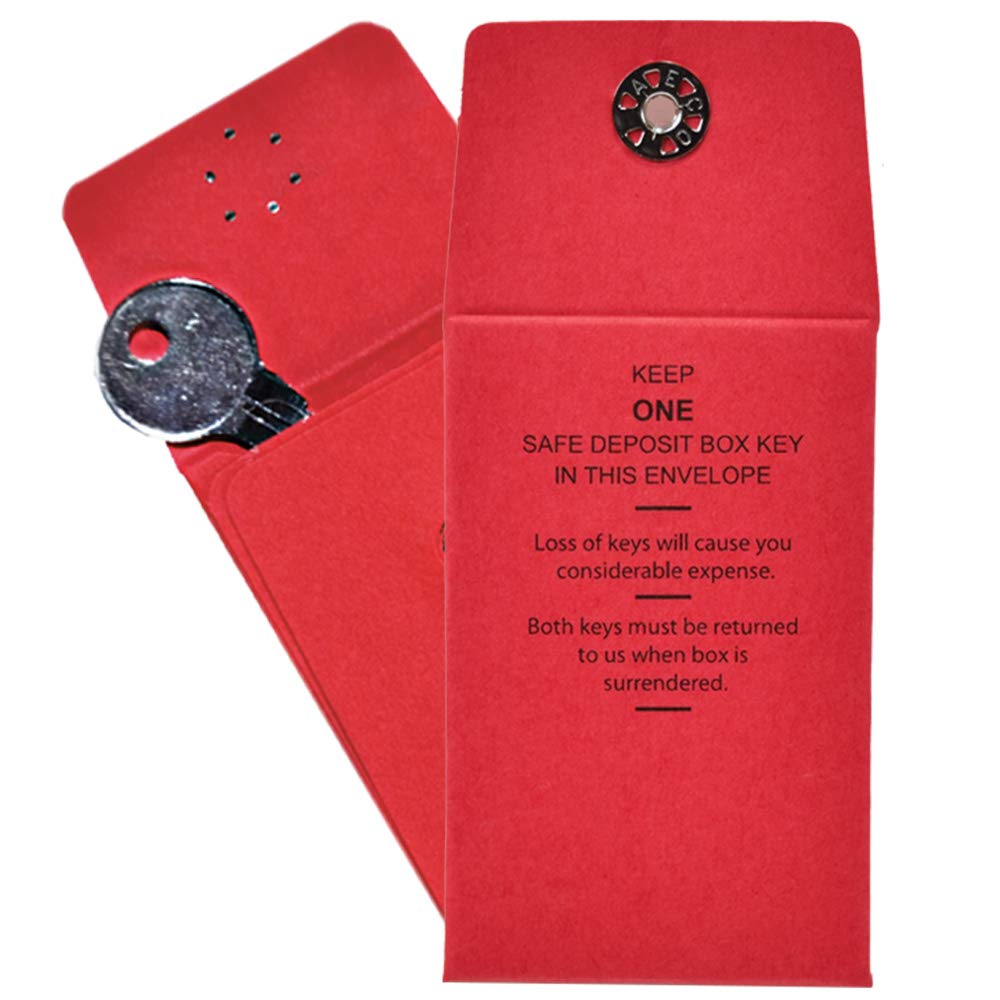 If you only find a key with no other hints, then safe deposit box keys usually look like this. They might have different key bows or key lengths, but they all look alike.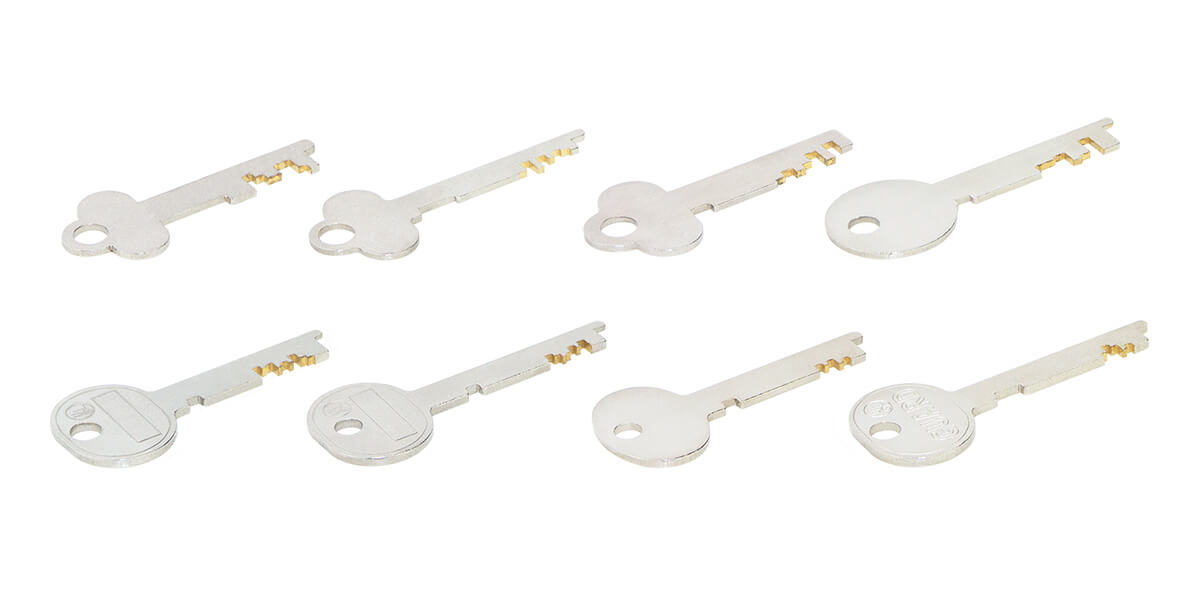 Where to Keep Your Key
Keys are important, and you'd better keep them safe. You can choose to keep them at the same place together or keep the two keys in different places in case someone finds them.
You can hide it in your safes, favorite hidden places in your home, in your office, or somewhere completely "outside the box".
Anyway, if you are not a frequent user of the safe deposit boxes, you'd better keep all your two keys in the same place. If you keep them separately, it's highly possible you may not remember any hiding location in the end.
When you lose any of your keys, you might need to bring all necessary documents to the bank to drill your box and change the locks, which may cost extra money.
Safe Deposit Box Key Duplication
Usually, the keys are prohibited from duplication as it can significantly increase the risk for the box to be opened by thieves. There are news reporting thieves using duplicated keys to steal several hundreds of boxes at a bank.
So normally, there is a "Do Not Duplicate" sign on the keys so locksmiths won't duplicate them. But many locksmiths do not care or are tricked by people who claim they happen to lose one of their keys and duplicate your key.
When you lose one of your keys, do not even think about duplicating another one. Go straight to the bank and ask for a lock change.
Keep your keys safe!
What to Put in a Safe Deposit Box
In general, any sensitive, valued, or important documents that do not require immediate access can be stored and kept in a safe deposit box.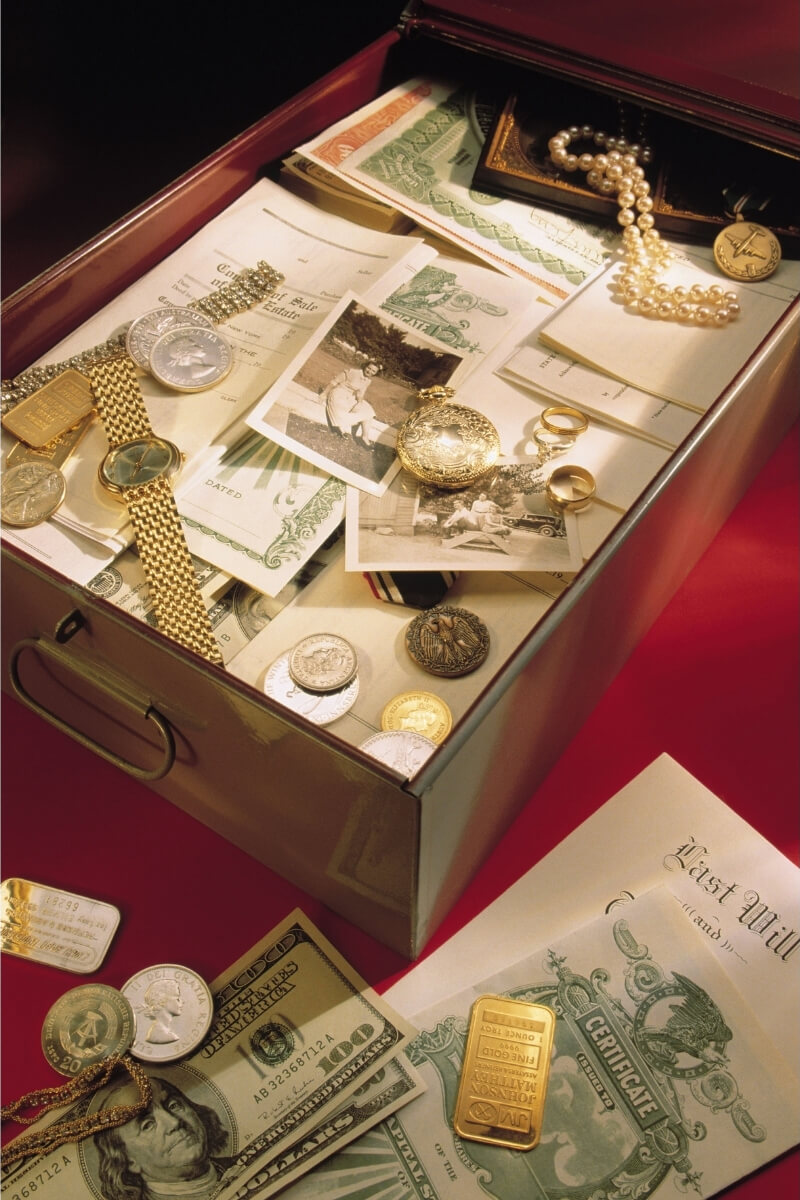 Things to put in the box:
Documents that do not require immediate access
Sensitive documents you do not want others to find
Property deeds, car titles
Personal and family papers, such as birth, marriage, divorce and death certificates, social security card, adoption records and citizenship papers
Financial documents, such as paper stocks, bonds, certificates of deposit and mortgage documents
Important contracts, records and business papers
Insurance policy and personal property inventory
Copies of wills and powers of attorney(not the only/original copy)
Collections, such as stamps and coins
Valuable assets such as antiques and jewelry
Treasured memories
What Not to Put in a Safe Deposit Box
Important things that might require immediate access at any given time should not be kept in a safe deposit box.
The only copy or original copy, such as wills and power of attorney should be kept with the executor. So the executor can get to the box with the original legal files when the box's holder dies or is incapable of opening it.
Things not to put in the box:
Passports if you are a frequent traveller
The only and original copies of important documents, such as the original copy of your will and durable power of attorney(DPOA)
The only copy of advance directives such as living will and the durable power of attorney for health care (medical power of attorney)
Uninsured collectibles and jewelry
Can I Put Guns in the Box
There are no laws against storing guns in a safe deposit box, but many banks would prohibit the storage of guns and have that declared in the rental agreement.
So if you want to put guns in a safe deposit box, you can check with your bank or private vaults for a higher chance to see if they allow you to store such firearms.
Can I Put Cash in the Box
There are no laws that prevent you from keeping cash in your safe deposit box. However, several things need to be taken into consideration before doing so.
Putting in a large amount of cash in a safe deposit box may have the appearance that you are involved in money laundering or trying to hide money from taxes and the IRS. Some banks would strictly prohibit this and state that customers cannot deposit cash, a large amount of money, gift cards or prepaid debit cards in their box in the rental agreement.
And the cash in the box is the same as any other content in the box, is not protected by FDIC insurance. You need additional insurance for your assets.
There're better ways to store cash than a safe deposit box, especially for a large amount of them.
Can I Put Gold in the Box
A safe deposit box is one of the best places to store your physical gold. Your gold assets get digitalized if you deposit gold into a bank gold account or in a bullion vault. You can buy and sell your gold online, but it becomes more like an investment decision. You may succeed and you may lose when doing investment activities.
If you keep your physical gold in a safe deposit box, your gold bar is always lying there and stays the same. If you need to keep your gold for safe storage rather than investment, a safe deposit box is the best place to store your gold.
Private Safe Deposit Boxes
Bank vs Non-Bank Private Safe Deposit Boxes
To most people, banks still represent the highest possible security standard with thick vault doors and high-tech security systems. Though private businesses that offer non bank safe deposit locker leasing services may have advantages in better services, prices, convenience or good privacy, the security level is still the first thing to consider when choosing SDB services.
So why would people choose private, non-bank safe deposits over banks?
Well, what if they have no choice now?
Banks Continue to Close Safe Deposit Boxes
In the United States, United Kingdom, Ireland, Singapore and elsewhere, banks are getting out of the safe deposit boxes business and they are considered a legacy service, which means they might keep the services on some main bank vaults, but many new bank branches installations will not consider to build a vault for safe deposit box leasing services.
And the trend that major banks withdraw from the safe custody business continues to increase. If you do some research or googling, you can easily find many news on banks that have abandoned the SDB business.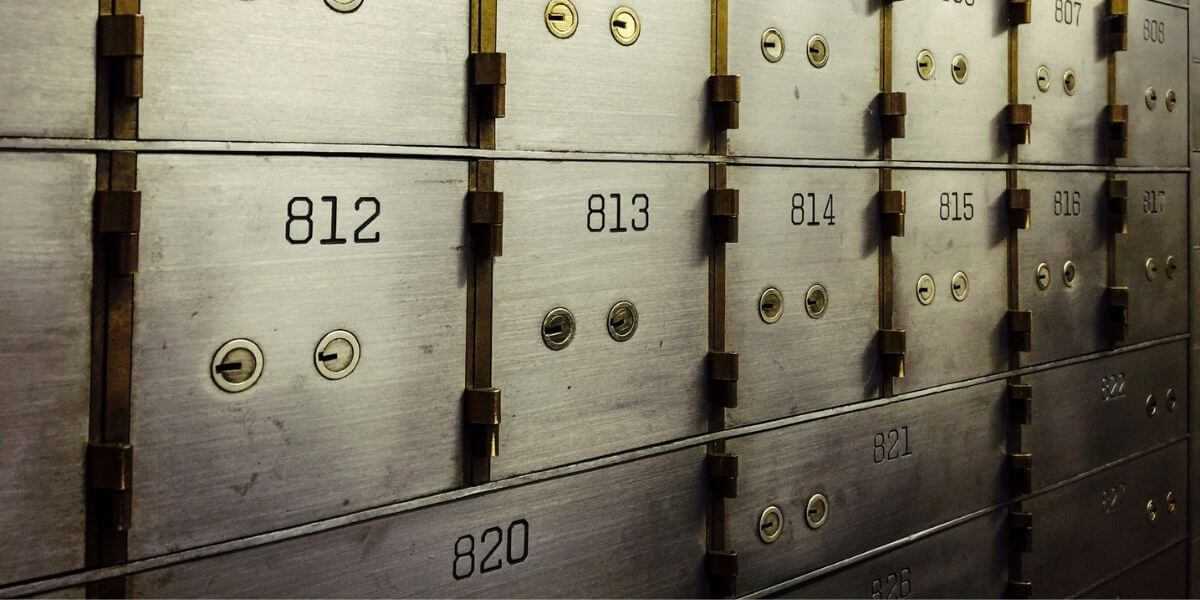 For example, in the UK, HSBC and Barclays safe custody services have been withdrawn for new users for quite some time. Barclays' barclaysafe document service is no longer available for new users from Oct 2019. HSBC has closed a massive amount of safe deposit boxes in their branches. All these safe deposit facilities have now officially closed with an extended deadline for overseas customers. Let alone other local banks all over the country followed up and started to phase out the service to existing users and ceased to offer the service to new customers.
Well, it's unfair to just simply say that banks are closing safe deposit box services as some banks close and re-open their services, some continue to offer service to existing customers but not accept new ones, but the availability of bank safety deposit boxes is in decline is for sure. Some services still remain available for old individual customers, private or selected business customers, but not for most individual new customers.
Reasons Why Banks Are Exiting Safe Custody
High Cost, Lack of Return
Simply put, the cost of running secure storage services goes way up, but the income does not increase accordingly.
The land has way more value, the rent goes up, the labor cost jumps. It's wiser to use the large amount of space that a safe deposit facility occupies for other businesses that generate way more profit.
With the trend of online banking and self-service facilities, the need for secure storage services is not like before.
Plus, the rental income is never a primary profitable source, most of the time, it's a highly subsidized project and most of the boxes are vacant and not leased. Banks have little interest in investing resources in low-priority, non-core services like safe deposit box facilities.
The Risk
The risk of losing valuables in a bank deposit box could do serious harm to the bank's reputation. Yes, the loss may be caused by a real bank robbery, a pure accident when transferring the boxes, intentionally stolen by bank staff, even if it's a total scam by the customer; in the end the loser is always the bank. Because even if you lost $10 assets and banks compensate you $1000, people would still think the bank lacks security and is not worthy of trust. People's general perception of bank safe deposit boxes is "most extremely secure", how can my valuables be lost?
I bet you have seen countless bank robberies in movies and newspapers; what's your first reaction? Smile?
Money Laundering
The launch of money laundering regulations undoubtedly speeds up the withdrawal from the safe deposit box business.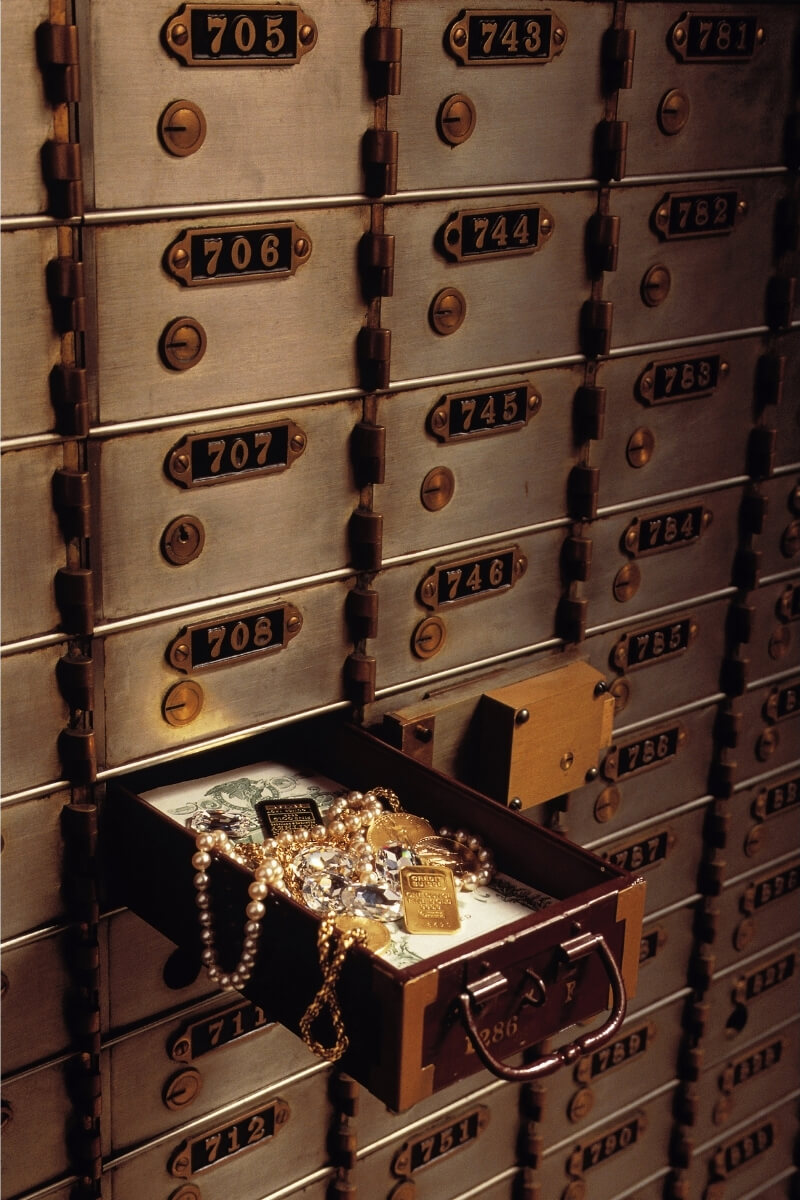 It's an unnecessary risk for banks to get stuck between governments and customers when there are investigations going on, i.e., money came from drug trafficking or a customer accesses a safe deposit box after completing a transaction involving a large withdrawal of currency, or accesses a safe deposit box before making currency deposits structured at or just under $10,000, to evade CTR filing requirements. Whether it is a false accusation or it's indeed illegal money in the end, banks are the ones to blame and lose trust and get complaints from both sides.
Lack of Law and Insurance
Till today, there are no federal or state laws concerning safe deposit boxes in the United States. So no rules require banks to compensate customers if their property is stolen or destroyed. The hidden trouble lies here. No law is protecting each side, the bank or the customer. When an accident happens, everyone wants to be the winner.
And according to the FDIC, there is no insurance for contents in the boxes. Banks tend to not offer it but there are banks that would offer insurance from third-party insurance companies for the convenience of the box renters as well.
If you want insurance, you need to go to business or private insurance companies to purchase insurance services for each of your valuable assets.
The lack of laws and insurance policies frustrates both safe deposit box holders and the banks. Banks do not want trouble, but when it happens, it can only be a mess.
There is No Need for Physical Storage
Technology today has made nearly "everything" digital. Your photos are now taken in phones, your stocking is operated entirely online, even your will can be written and kept in a digital vault. Who uses paper today, and of course, save paper, right? Everything is in the cloud.
With the trend of technology today, the need for physical storage has become obsolete for many things.
Plus, basic-level home safes are affordable nowadays, people would just purchase a home safe and store assets at home instead of a bank branch far from your house which you may have to make an appointment first when you need to withdraw some documents in a hurry.
What Are Other Options
With banks continuously withdrawing from safe deposit box business, customers have to find other options for storing what used to be kept in the bank vault. One of the most common options is to have a home safe or even find a good hiding place at home for such items. This is quite common but storing at home is on-site storage, which cannot replace the advantage of off-site safe storage in a bank vault.
The other option is to find a private, non bank safe deposit company that offers such services, so you can transfer your valuables from the bank straight to the private vaults, nothing would be different from the good old days.
Non-Bank Private Safe Deposit Box
While if you want to find a non-bank safe deposit box for rent, you might find them at several places, such as department stores, specialist dealers and stand-alone businesses. For example, you may see jewelry shops, diamond/bullion dealers, hotels which have their own vaults and safe deposit boxes. In this article we will only talk about the private businesses who provide safe deposit lockers renting service as their major business here, they are more typical.
With continuing withdrawal of the banks and banks keeping closing their branches to cut costs, there has been an explosion of interest in opening up new vaults all over the country. But private safe deposit companies are still few, here are some reasons.
Huge Cost of Building Vaults and Reaching Profitability
One reason is the huge cost of building new safe deposit vaults, both money and time. New players who step into this industry can hardly make a success, they need time for reputation establishment and need to bear negative cash flow for several years before they can make it profitable. Customers who switch from banks will want to see the private business is reliable, secure and sustainable for a fair degree of reassurance, which requests the private business has to be top-notch and make huge investments to compete with banks, and they need many customers to break even.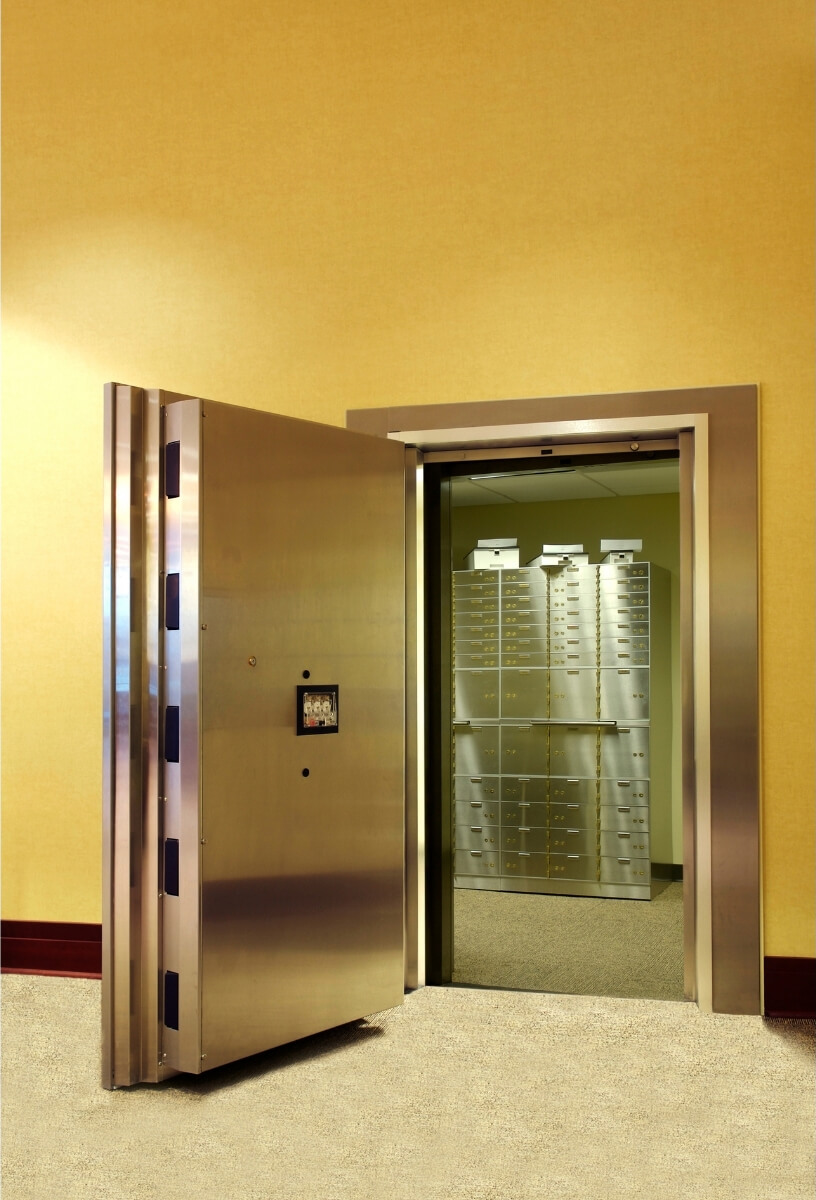 Home Safes Become Popular, Customers Tend to Store at Home
There is, of course, one other option for exiting bank customers and that is to keep their valuables at home. For most families, the undeniable fact is that there will be no independent vaults near them. Installing a high-quality home safe and a sophisticated alarm system is a sensible precaution against the average, opportunistic burglar.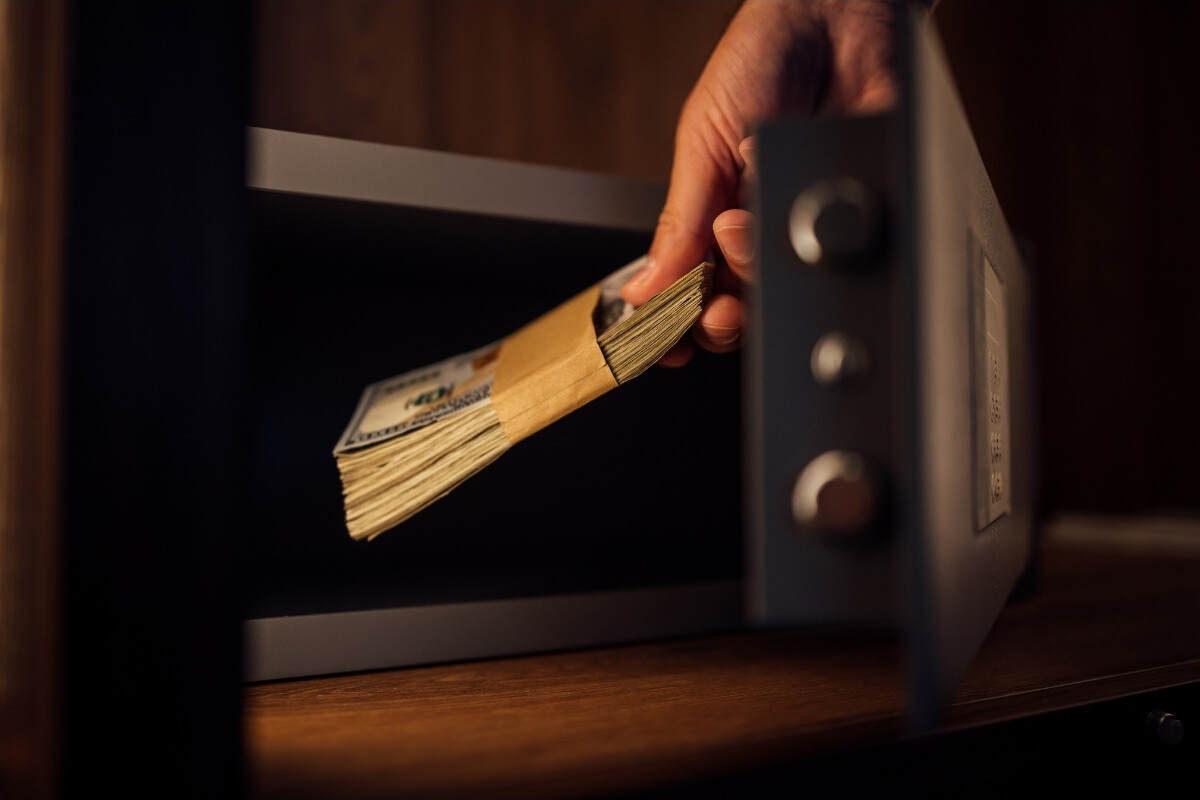 However, it may not protect families from the more sophisticated burglar. One suggestion that does make sense is to store everyday items at home and to keep the more valuable possessions (heirlooms, gold bars, coins, important documents etc) in a secure vault.
Lack of Trust Compared to Banks
I think it's obvious here. If you could select to store your content, whether in a bank or a non-bank private business, who would you choose?
Lastly, how many of us have heard about private safe deposit boxes other than movies or news?
The answer is clear. Most of the customers choose private safe deposit lockers only when they cannot rent at banks.
Otherwise, They Are the Same
We've seen private businesses equip ultra-high security protections same as banks, with surveillance, huge vault doors and strict procedures.
We've seen robbery/kidnap news, property confiscation happened at both bank vaults and private vaults.
Who to say they are significantly different?
Differences Between Bank and Private Safe Deposit Box
Bank and private safe deposit businesses share a lot in common, but they do have differences and their advantages. Here are some major pros and cons to help you make the right decision when choosing between them.
Requirement for Opening Account
Banks have strict procedures and would require more documents for opening your safe deposit box and identification. While private safe deposit businesses would only require minimal and basic identification for opening your account, they are also responsible for fighting illegal activities. In this case, private businesses can provide more privacy to customers than banks as they require fewer documents and do not share your financial information.
Privacy and Safety
For most bank vaults, you share the room with many other irrelevant people. You have a chance to get noticed and spied on by burglars or mobs. They are aware you are likely to be rich if they spot you come out of the bank vault.
But for private safe deposit businesses, their entrance and exit location are usually different and located in relatively hidden places. People won't know the fact that you have just left the vault.
Visiting Your Box
To visit your box in bank vaults, you need to bring your identity document and keys and follow their working hours. Usually, you have to make an appointment beforehand.
Private safe deposit box suppliers would have border opening hours than banks, sometimes 24/7 and even self-service available. And usually, they would only require you to bring your keys or cards without extra identification documents. Some businesses would require you to make an appointment online as banks do.
Things Allowed to Store
Mostly the same. Private businesses tend to have a lower restriction about what you can store in their boxes.
Rental Price
The rental price depends on how individual business and bank charges due to their condition and services.
How to Choose a Reliable Non-Bank Private Vault
For bank vaults, customers only need to select which bank they are more familiar with or which branch is closer to them. Whether the bank's security protection level is low or high is never on their consideration list. Banks have a reputation for high security, and that's true, they manage huge money every day.
But for private vaults, people get to choose from different private safe deposit business suppliers. How can we know which private vault offers better services and provides decent physical security protection? We need to compare, investigate and finally make a decision.
The first thing to look for is overall security protection. Not only your property should be properly protected behind the bank vault, but your personal safety when visiting the private vault is also important, especially when you visit a full self-service vault.
When you visit or research a private safe deposit box supplier, you should look for or ask them directly for what actions they take to guarantee your safety.
Is there an interlocking door to prevent piggybacking and tailgating? You don't want anyone suspicious to follow you to the vault.
Do they have reinforced walls, doors or even windows? Physical protection is not only limited inside the vault, it should be extended to the entire facility.
Are their CCTV surveillance, alarm systems, and access control solid? It's better that all are monitored by security staff in a control room.
Are their major physical protection product certified? A UL, EN certified high rating vault door is better than a non-certificated door.
The second thing is to ensure the staff is well-trained, professional and qualified. High security and sophisticated systems are nothing without good staff. Besides, staff should be trained to know your customers for anti-money laundering and counter-terrorism purposes.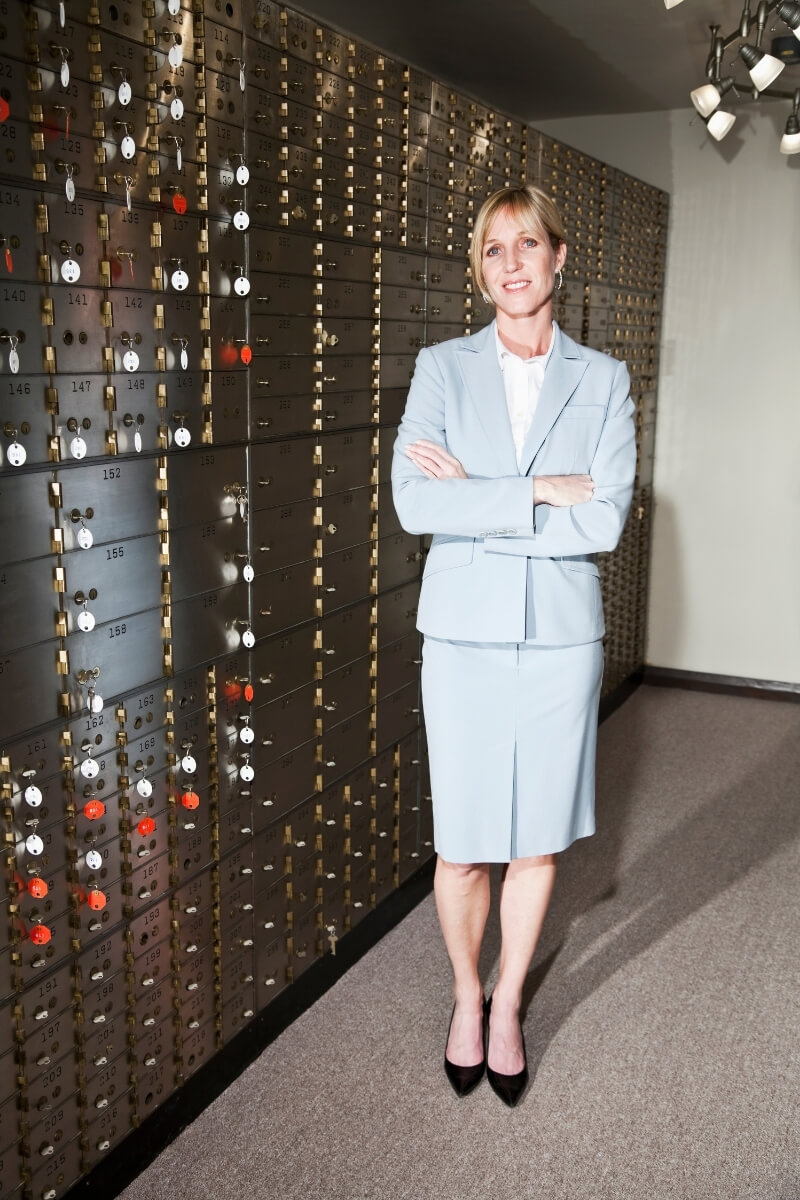 Third, the private vaults should have a well-established reputation and filter out criminal activities. No one wants to store their properties in a vault that are shared with criminals. What's more, your legal property is at high risk when the criminal's secret, illegal hiding is exposed to the government and police. When police investigate the vault, all properties are being investigated and it may affect legit customers too. That would be a huge problem for bank owners and legit customers.
The final point is, businesses should conduct regular security and risk audits. Audit your working schedule, security equipment, daily reports, operational procedures, facilities, staff recruitment and training and any severe vulnerability and potential risks.
Safe Deposit Box or Home Safe
Despite the common knowledge that a home safe is best for storing items that could be needed at a moment's notice, such as passports, guns, cash or the only original wills and medical records, in the meantime, a safe deposit box is best for keeping things that you won't need to use frequently such as property deeds and collectibles.
The most significant advantage of a safe deposit box is, your assets are always stored off-site, away from your house and people are not even aware of the existence of your valuables.
Imagine this, if you have a premium and high-security home safe in your house, treacherous relatives would know you have stored some high valued items inside and might start to plan for stealing or burglary. Not only your assets might get stolen, but mobs might also threaten and force you to open the safes.
Even a very tough and heavy-duty home safe can be opened using crowbars, sledgehammers, and pries. Sometimes it's easier to pry the safe open if the safe is bolted on the ground. Not to mention $100 cheap home safes which you could buy at any store.
When you go traveling, the risks of your home safe getting robbed would significantly increase too.
Use a home safe for your regular items and rent a safe deposit box for your high-value assets, this may be the optimal solution.
How Does Hotel Safe Deposit Box Work
In most cases, you can find a basic in-room hotel safe in your room to store your valuables. That's what most people call a "hotel safe deposit box". Hotel safes are convenient, but they are easy to break in, and their manager code is often unchanged and remains the same as factory code.
There are also hotels that do provide real safe deposit box service just like banks, sometimes you can have a private room for handling your items, sometimes it's at the hotel counter, but all the rest are just like what you do in the banks.
Some hotels do provide both in-room hotel safes and safe deposit box services for you to choose from. If you want to use the service, you can go to the front desk for information, most of the time it is complimentary(they may charge you $50-$100, just to remind you to return the keys), and you will be asked to offer your passport or ID for identification and fill out some forms. Then you are given renter keys or get to choose some passwords per each hotel's own requirement. Another benefit to use safe deposit box service, is that hotels typically have security cameras on them, which makes thieves to think twice before trying to steal.
FAQs
Is Safe Deposit Box Rental Fee Tax Deductible
The simple answer is NO.
According to IRS, Publication 529 (12/2020), Miscellaneous Deductions
Safe Deposit Box Rent
Rent you pay for a safe deposit box you use to store taxable income-producing stocks, bonds, or investment related papers is a miscellaneous itemized deduction and can no longer be deducted. You also can't deduct the rent if you use the box for jewelry, other personal items, or tax-exempt securities.
So the safe deposit box rental fee is not deductible since 2019.
Can Third-Party Access to a Safe Deposit Box
In order for any law enforcement agency to gain access to a safe deposit box, it must persuade the appropriate court that there is "reasonable cause" to suspect that the box renter is hiding something illegal in the box such as guns, illegal drugs, or stolen property.
The Internal Revenue Service can "freeze" assets, including the contents of a safe deposit box, until the tax dispute is resolved. Creditors seeking payment can do the same if they satisfy a judge that such an action is warranted.
How Much for Drilling Your Box
If you lose your keys, you may have to drill the box. Average it costs $150 to cover the costs of locksmith and new locks and keys. Some banks might charge up to $300 or $400 to push customers to search again for their lost keys, most of the time it works.
Safe Deposit Box or Safety Deposit Box
Safe deposit box is the preferred term here in the industry, but the term safety deposit box is also accepted and commonly used, especially in the United States.
One good reason why safe deposit box is the correct term is similar to "safe keeping", "safe custody" or "safe storage", which means the deposit box is safe while safety-deposit is grammarly incorrect. There is also one reason why safety deposit box is used maybe due to the pronunciation of "safe-de" misheard as "safety".
But in the end, it does not matter which term you prefer, we all know they are the same thing.
Are Safe Deposit Box Fireproof and Waterproof
Most safe deposit boxes are fire and water resistant to protect valuables from fire, flood or other disasters for a certain amount of time, but it does not mean they are immune or "proof" to fire or water. Fireproof or waterproof are incorrect terms here, fire-resistant or water-resistant is more accurate.
Most safe deposit boxes are not waterproof as they are simply metal boxes. We've seen many news reporting bank vaults get flooded and thousands of boxes are damaged by water. If you want to add extra protection, you can put your items in zip bags or water-proof containers and rent a high-located box in the vault.
Most safe deposit boxes are not fireproof either, but the bank vault door itself is mostly fire-resistant for long hours. So generally we can claim safe deposit boxes are fire-resistant as fire usually happens outside the vault and the boxes are protected from fire.
Who Can Access a Safe Deposit Box
There are two options to grant someone else access to your safe deposit box, joint lease or POA.
If you want someone else to share access to the box, i.e. your wife, children or business partner, then the box must be rented jointly. Both parties should register and sign documents when they rent the box at the bank as a joint renter, so either of the joint leases can have access to the box without another one's consent.
Another option is to have a POA. A power of attorney is a document granting authority for one person to act on behalf of another. The power of attorney itself cannot do anything. The recipient of the POA, the attorney-in-fact (agent or AIF) is the party who may or may not get authority to access the box in the POA. You have to see the POA document to know whether safe deposit access is specifically included.
Simply handing the key over to another person does not grant him the right to access your box.
Who Can Access the Safe Deposit Box When the Holder Dies
Generally, your family or the executor of the deceased can get access to the box in order to review its contents, i.e, to look for the deceased's will. Sometimes you will be required to obtain a court order, the key to the box, proof of the decedent's death to open or review relevant documents.
But what is required and who is allowed to get access to the box when the holder dies is completely up to the law of each state/country.
How to Insure Your Safe Deposit Box
In the United States, neither banks nor the FDIC insures the contents.
No FDIC Insurance for Contents
The Federal Deposit Insurance Corporation insures only deposits in accounts at banks, such as checking accounts. The contents of your safe deposit box are not insured by the FDIC, they are just safe storage services provided by banks.
An individual can purchase separate insurance for the safe deposit box in order to cover e.g. theft, fire, flooding or terrorist attacks.
How Often to Visit Safe Deposit Box
Up to you, as long as you remember paying the annual fee.
What Happens When You Ignore Your Safe Deposit Box
While if you miss to pay the annual fee, bank will try to contact and notify you. If you re-pay the fee, then everything is good till next year.
If they cannot get in touch with you, after a certain amount of time(3 years or so), for whatever reason maybe you simply forgot about the box or intentionally ignored the box , the box will be considered as unclaimed or abandoned. Then according to the law, your content will be transferred to the state treasury or unclaimed property offices.
What Happens to Safe Deposit Boxes When a Bank Closes
First, don't worry. You can still get your assets and box, and banks do not own them when they close down.
If a bank is simply closing one of its branches, in most cases, your assets are transferred to one of their headquarter vaults. You should contact their headquarters about how you can get to your box.
If a bank goes bankrupt or closes down, you can still have access to your assets.
Before the bank is closing down, banks would notify you so you can have enough time to remove your items like usual.
When the bank is closing down and undergoing certain procedures, you might not have access or only limited access to your box.
After all the procedure is over, after about several weeks, you can eventually have access to your box. At that time, the bank reopens and is run by another financial institution.
All processes during closing and transfer are overseen by FDIC, you don't have to worry about your assets in the box.
If a bank is completely closed and does not reopen, and the bank fails to get in touch with you, then your content will be transferred to the unclaimed property offices or the state treasury. You can get your content there.