Banking Equipment
Safe Deposit Boxes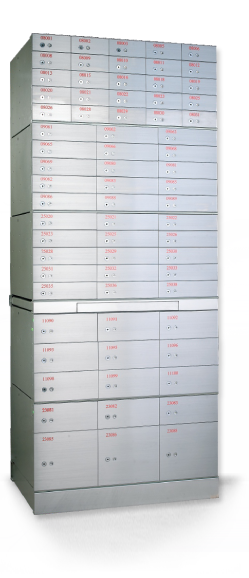 Various boxes dimensions, multiple hinges styles, several types of safe deposit locks to choose from, we are confident to offer you the best safe deposit box solutions covering every aspect of your safe deposit box project requirement.
All safe deposit boxes casings are precisely machined to offer most uniform apperance.
Choose from our standard safe deposit box models or contact us for your customize request.
Features
Gerneal Specifications
Body made of fine & high quality steel sheets
Doors can be made of stainless steel or aluminum with stainless steel trim
Double noses safe deposit lock
Hinge: visble
Pull out shelf with self-lock mechanism
Bond box made of powder coated steel
Options
Multiple boxes and column styles available
Hinge: protruding or hidden
Bond box made of stainless steel
Lock system: electronic lock management system or single key safe deposit lock
Automatic retrieval and storage systems(turnkey solution)
Specifications
Our standard models
| Model | No. of Openings | Size of SDB(inch) | Net Weight(KG) | Net Weight(Lb) |
| --- | --- | --- | --- | --- |
| K-QL2-2 | 2 | 15*15*22 | 80 | 176 |
| K-QL2-6 | 6 | 10*7.5*22 | 94 | 207 |
| K-QL2-9 | 9 | 10*5*22 | 111 | 245 |
| K-QL2-15 | 15 | 10*3*22 | 137 | 302 |
| K-QL2-18 | 18 | 5*5*22 | 132 | 291 |
| K-QL2-30 | 30 | 5*3*22 | 132 | 342 |