Banking Equipment
Vault Doors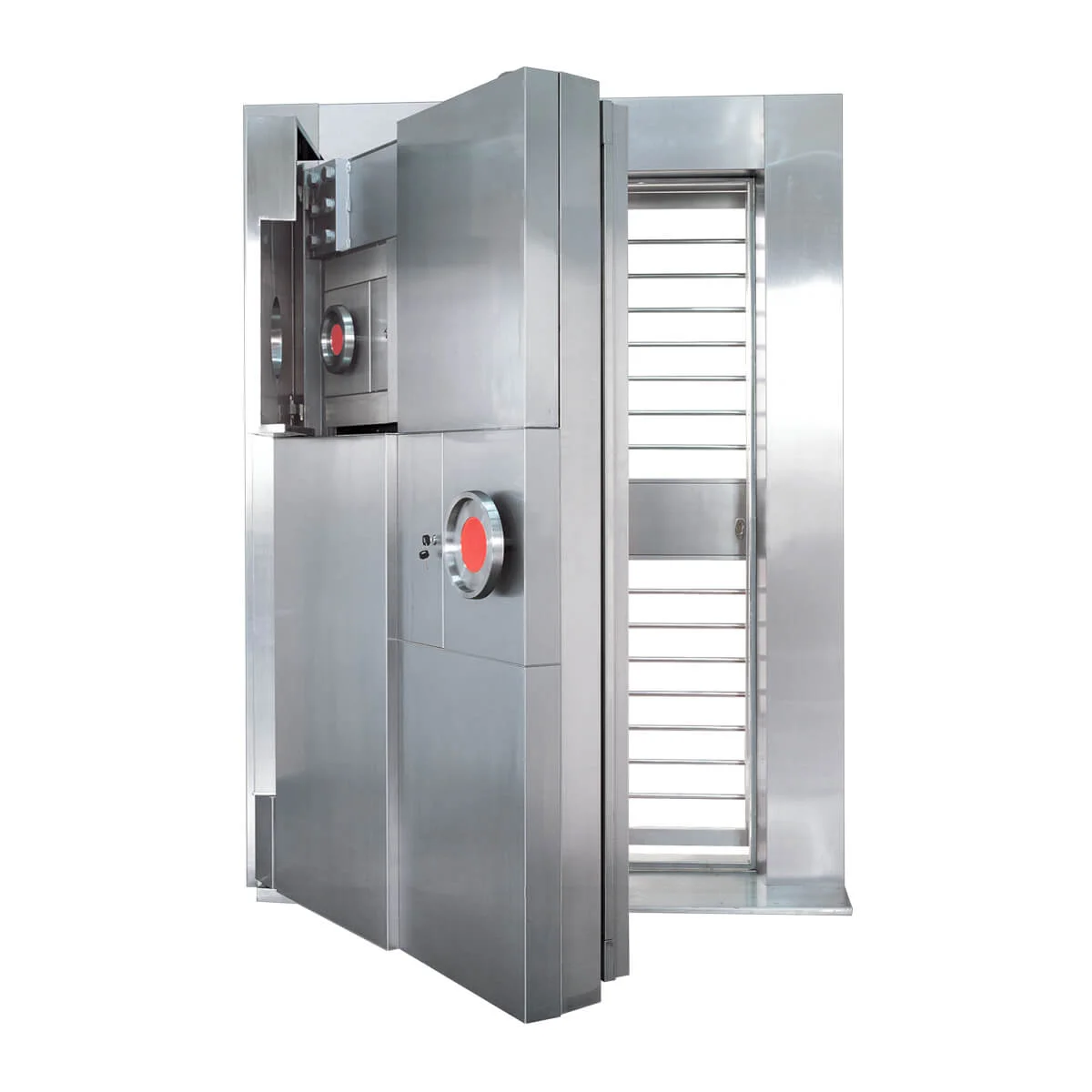 Choose from Kcolefas vault door products for your banking and financial business. All our vault doors meet the highest certification grade of China, moreover, there are certain vault door models have acquired U.S. UL approvals.
All vault doors are equipped with UL/EN/VdS certificated locks, which you can choose from 3-wheel/4-wheel combination locks, premium electronic combination locks to high security key locks, at your requrest.
Choose from our standard Class 1/2/3 vault door models or contact us for your customize request.
Features
Class 1/2/3 and UL Vault Doors
Certifacation
Class 1, Class 2, Class 3 Certification
UL Group 2 Certification
Gerneal Specifications
Durable and heavy duty guarantees high level of protection performance
Heavy duty hinges ensures both tough security performance and vault door operation with ease
3-way locking mechanism with relocker and anti-drill plate for higher protection against forced entry
Classic stainless steel finish
All locks equipped are with high lever security certification as UL/CEN/VdS
Options
Mechanical safe lock: 4-wheel mechanical safe lock and scrambler
Electronic safe lock: OTC one-time-code function, fingerprint entry, or other functions available.
Time Lock: 2 movement, 3 movement time lock
Mechanical key lock: non-retained key
Alarm system
Specifications
Our certificated standard models
| Model | Clear Opening(mm) | Door Frame(mm) | Wall Opening(mm) | Net Weight(KG) | Door Thickness(mm) | Single Swing | Locks |
| --- | --- | --- | --- | --- | --- | --- | --- |
| Class 1 | | | | | | | |
| CL1-0819 | 800*1900 | 1060*2070 | 1300*2200 | 794 | 95 | Yes | 3 |
| CL1-0920 | 900*2000 | 1270*2215 | 1400*2300 | 940 | 95 | Yes | 3 |
| CL1-1020 | 1000*2000 | 1370*2215 | 1500*2300 | 1014 | 95 | Yes | 3 |
| CL1-1120 | 1100*2000 | 1490*2215 | 1620*2300 | 1102 | 95 | Yes | 3 |
| CL1-1121 | 1250*2120 | 1620*2335 | 1750*2420 | 1317 | 95 | Yes | 3 |
| CL1-1421 | 1400*2120 | 1770*2335 | 1925*2420 | 1433 | 95 | Yes | 3 |
| CL1-3630 | 3600*3000 | 4250*3390 | 4350*3500 | 2800 | 95 | Yes | 3 |
| Class 2/3 | | | | | | | |
| CL2(3)-0920 | 900*2000 | 1391*2246.5 | 1510*2370 | 1412(1497) | 110 | Yes | 3 |
| CL2(3)-1020 | 1000*2000 | 1491*2246.5 | 1630*2370 | 1497(1591) | 110 | Yes | 3 |
| CL2(3)-1120 | 1120*2000 | 1611*2246.5 | 1730*2370 | 1660(1705) | 110 | Yes | 3 |
| CL2(3)-1221 | 1250*2120 | 1877*2422.5 | 2000*2545 | 1938(2062) | 110 | Yes | 3 |
| CL2(3)-1421 | 1400*2120 | 2025*2422.5 | 2150*2545 | 2093(2233) | 110 | Yes | 3 |
| CL2(3)-1622 | 1600*2200 | 2225*2512.5 | 2350*2620 | 2628(2824) | 110 | Yes | 3 |
| CL2(3)-1823 | 1800*2300 | 2425*2612.5 | 2550*2720 | 2628(2824) | 110 | Yes | 3 |
| CL2(3)-2025 | 2000*2500 | 2625*2812.5 | 2750*2920 | 3140(3377) | 110 | Yes | 3 |
For Class 1 vault doors
Door frame thickness is 250 mm when wall thickness between 180-239 mm
For Class 1/2/3 vault doors
Door frame thickness is 320 mm when wall thickness between 240-290 mm
Door frame thickness is 380 mm when wall thickness between 291-355 mm
Door frame thickness is 430 mm when wall thickness between 356-420 mm