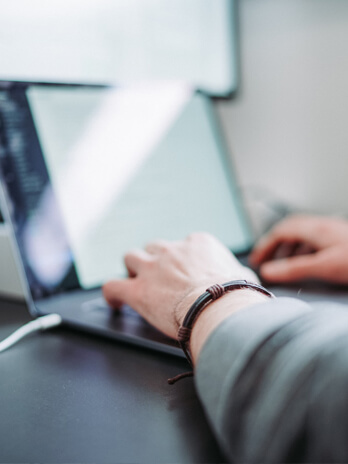 Contact us
---
Send your messages and requests to us and let Kcolefas gets in touch with you
Privacy Policy
Kcolefas is committed to protecting your personal data. This privacy notice describes how we processes and uses the personal data that we receive from you in connection with this website and how you can contact us if you have additional questions regarding our processing of your personal data.
What personal data we collect and why we collect it
When using our website for purely informational purposes, i.e. without registering or otherwise submitting information to us, we only collect the personal data that your browser transmits to our server. If you would like to view our website, we collect the following data that we require from a technical point of view to display our website to you and guarantee stability and security (the legal basis here is article 6(1) sentence 1, lit. f GDPR): IP address, Date and time of enquiry, Time zone difference to Greenwich Mean Time (GMT), Content of request (specific page), Access status/HTTP status code, Volume of data transmitted, Website from which the request originated, Browser, Operating system and its interface, Language and version of browser software.
Contact forms
If you submit inquiries to us via our contact form, the information provided in the contact form as well as any contact information provided therein will be stored by us in order to handle your inquiry and in the event that we have further questions. We will not share this information without your consent. Hence, the processing of the data entered into the contact form occurs exclusively based on your consent (Art. 6 Sect. 1 lit. a GDPR). You have the right to revoke at any time any consent you have already given us. To do so, all you are required to do is sent us an informal notification via e-mail. This shall be without prejudice to the lawfulness of any data collection that occurred prior to your revocation. The information you have entered into the contact form shall remain with us until you ask us to eradicate the data, revoke your consent to the archiving of data or if the purpose for which the information is being archived no longer exists (e.g. after we have concluded our response to your inquiry). This shall be without prejudice to any mandatory legal provisions – in particular retention periods.
Cookies
In some instances, our website and its pages use so-called cookies. Cookies do not cause any damage to your computer and do not contain viruses. The purpose of cookies is to make our website more user friendly, effective and more secure. Cookies are small text files that are placed on your computer and stored by your browser. Most of the cookies we use are so-called "session cookies." They are automatically deleted after your leave our site. Other cookies will remain archived on your device until you delete them. These cookies enable us to recognise your browser the next time you visit our website. You can adjust the settings of your browser to make sure that you are notified every time cookies are placed and to enable you to accept cookies only in specific cases or to exclude the acceptance of cookies for specific situations or in general and to activate the automatic deletion of cookies when you close your browser. If you deactivate cookies, the functions of this website may be limited. Cookies that are required for the performance of the electronic communications transaction or to provide certain functions you want to use (e.g. the shopping cart function), are stored on the basis of Art. 6 Sect. 1 lit. f GDPR. The website operator has a legitimate interest in storing cookies to ensure the technically error free and optimised provision of the operator's services.
Third-party Analytics
This website uses functions of the web analysis service Google Analytics. The provider of this service is Google Inc., 1600 Amphitheatre Parkway, Mountain View, CA 94043, USA. Google Analytics uses so-called "cookies", text files that are stored on your computer and enable analyses to be carried out regarding your use of the website. The information generated by the cookie about your use of this website is generally transmitted to a server of Google in the USA and stored there. In the event that IP anonymization is activated on this website, your IP address will be shortened in advance by Google, however, within Member States of the European Union or in other Contracting States to the Agreement on the European Economic Area. Only in exceptional cases will the full IP address be transmitted to a server of Google in the USA and shortened there. On behalf of the operator of this website, Google shall use this information to analyze your use of the website to compile reports on website activity and perform further services associated with website usage and internet usage for the website operator. For more information on how Google uses data when you use our Services, follow link http://www.google.com/policies/privacy/partners/, and opt out of Google's practices by downloading the Google Analytics opt-out browser add-on, available here. https://tools.google.com/dlpage/gaoptout.
Who we share your data with
We may share your personal information to third party business partners, who may contact you about their own products or services that may interest you, consistent with your choices.
How long we retain your data
We store the personal data as long as it is necessary to fulfil the purpose for which the data has been collected. This means that we delete your personal data when such data is no longer necessary to process a request, an order or to administrate your account or our client relationship. Statistics which has been anonymised may be saved thereafter.
What rights you have over your data
You may at any time request the rectification or erasure of your personal data. Please note however that deletion could mean that we cannot process requests or orders, or that your account expires. You have the right to request a copy of your personal data from our record. You have the right to request a limitation of the use of your personal data (for example if you deem the data to be incorrect) or the termination of use of your personal data. You are entitled to request the personal data used to process an order, to administrate your account or our client relationship in a machine-readable format which you are entitled to transfer to another data controller.
Where we send your data
Your Personal Information may be stored and processed in any country where we have facilities or in which we engage service providers, and by using the Services you understand that your information will be transferred to countries outside of your country of residence, which may have data protection rules that are different from those of your country. In certain circumstances, courts, law enforcement agencies, regulatory agencies or security authorities in those other countries may be entitled to access your Personal Information.
Contact information
If you have privacy-specific concerns, we can be contacted at [email protected]